Yes. There are several ways under current Florida law for a physician to face criminal liability for illegally prescribing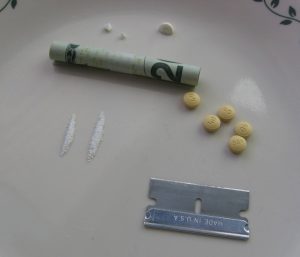 or trafficking controlled substances. Physicians can be held criminally liable for prescribing controlled substances without conducting proper medical examinations, writing a prescription for a controlled substance if the sole purpose is to provide a monetary benefit to the physician, possessing a building or structure (the clinic  or office) for the purposes of trafficking a controlled substance, writing a prescription for a fictitious person,  and assisting someone in obtaining a prescription for a controlled substance through deceptive, untrue, or fraudulent representations, or through employing a trick or scheme. All of these charges are felonies, and a physician will often be charged with several of the above-mentioned criminal offenses if they're engaged in illegally prescribing controlled substances.
In recent years, Florida has faced an opioid crisis stemming from the operation of 'pill mills.' The term 'pill mill' is typically used to describe physicians prescribing large quantities of narcotic pain medications with limited to no medical evaluations for cash payments for the purposes of making large monetary profits. These clinics are often operated for the sole purpose of providing narcotic medications, with no other medical treatment or evaluations conducted. Several doctors operating these pain clinics in Florida have been arrested and charged with crimes relating to their actions in these clinics. Dr. Laurence Skolnik, the treating physician at A Pain Stop Management on East Colonial Drive in Orlando, was arrested on April 20, 2016, on charges of possession of a place of structure used for the sale or trafficking of a controlled substance, conspiracy to traffic a controlled substance, drug trafficking, and racketeering. Dr. Willem Ouw was arrested in June of 2017 for charges of conspiracy and attempting to dispense prescription drugs. Both doctors are currently facing lengthy prison sentences if convicted.
So, how does law enforcement obtain evidence against the doctors they believe are engaged in illegal activity? Law enforcement agencies will send undercover officers or agents into the clinics posing as patients to investigate the practices and record the operations within the clinic. Law enforcement may also conduct surveillance on the clinic. Often these investigations are orchestrated between several different government agencies, including local sheriff's offices, the Florida Department of Law Enforcement, the DEA, state and federal insurance fraud investigators, and the IRS. The Florida prescription drug monitoring program, E-FORCSE, and will also aid law enforcement during criminal investigations by tracking each time a controlled substance is dispersed to an individual as of January 1, 2018.
While Florida continues to face ongoing issues stemming from the abuse of controlled substances, these laws have helped target some of those issues by preventing physicians from using prescription narcotics for their own financial profits and in turn making narcotics easily and readily available for anyone interested in obtaining them. These laws enable the Department of Health and law enforcement agencies to shut down illegally operated clinics, preventing massive amounts of narcotics from becoming available on the streets for abuse and illegal activity.